Sidewalk Shed in New York City
We are working as the third-party to help you in installing the strongest sidewalk bridge and shed system with a high load-bearing capacity and complete rigidity. You can now ensure 100% safety during the construction or repair of buildings, trenches, and vessels using our sidewalk shed designs. If you're looking for a reliable sidewalk shed in NYC and nearby areas, you're at the right place.
We deal with all types of shoring sidewalk shed as per the requirement of your site. You can choose from a wide range of sidewalk shed systems available in all sizes and leave the rest to us. We make sure that the product we are providing is of high-quality. Our experts will do the research and suggest you the best options as per your needs.
Sidewalk sheds come in different sizes and construction material that can be used for all types of construction projects commercial, industrial, or domestic level. Our experts also provide innovative solutions for a seamless construction process using different sidewalk shed. With the sidewalk protection shed installed, you can rest assured about safety.
During the construction or refurbishment process, the safety of surroundings and pedestrians is a major concern. Hence, temporary sidewalk construction sheds are used to ensure safety and protect pedestrians from falling debris and other construction material. To help you with it, we provide the services of installing customizable heavy-duty sidewalk sheds for all types of construction sites.
The sidewalk sheds that we deliver are of high-quality and reinforced material that can withstand concrete clusters, metals, and other debris falling off from construction sites. The scaffold shed should be strong enough to stay stable in all sorts of working environments and weather conditions. Moreover, the durability of these sidewalks makes them the best option for long-running projects.
Complete Shed Installation
We are offering rental and complete shed installation services. We've experts on board specializing in shed installation. Once you reach out to us, our experts will visit the construction site, take precise measurements, and install the sheds. The process will be smooth and lightning-fast; you don't need to worry about anything and carry on your project. 
Finding a reliable sidewalk shed installation service provider in NYC can be a daunting task. But why do you need to find one? If we're at your service across NYC. Our company is a trusted name, and extensive experience in shed installation that speaks of our credibility. If you want to get the most durable sidewalk sheds installed anywhere in NYC, you can reach us right away. Our experts will visit your site and install the sidewalk without even bothering you.
So, what are you waiting for? Go to our 'Contact us' page and book sidewalk shed NYC.
Are you looking for sidewalk shed installation or rental service in the Bronx? We're offering the complete sidewalk shed installation and rental packages at very affordable rates. If you're worried about the credibility of our services, don't forget to read reviews from our valuable clients. We don't brag about our credibility because our clients say it all. We're the best sidewalk shed service providers in the Bronx. You can really count on us!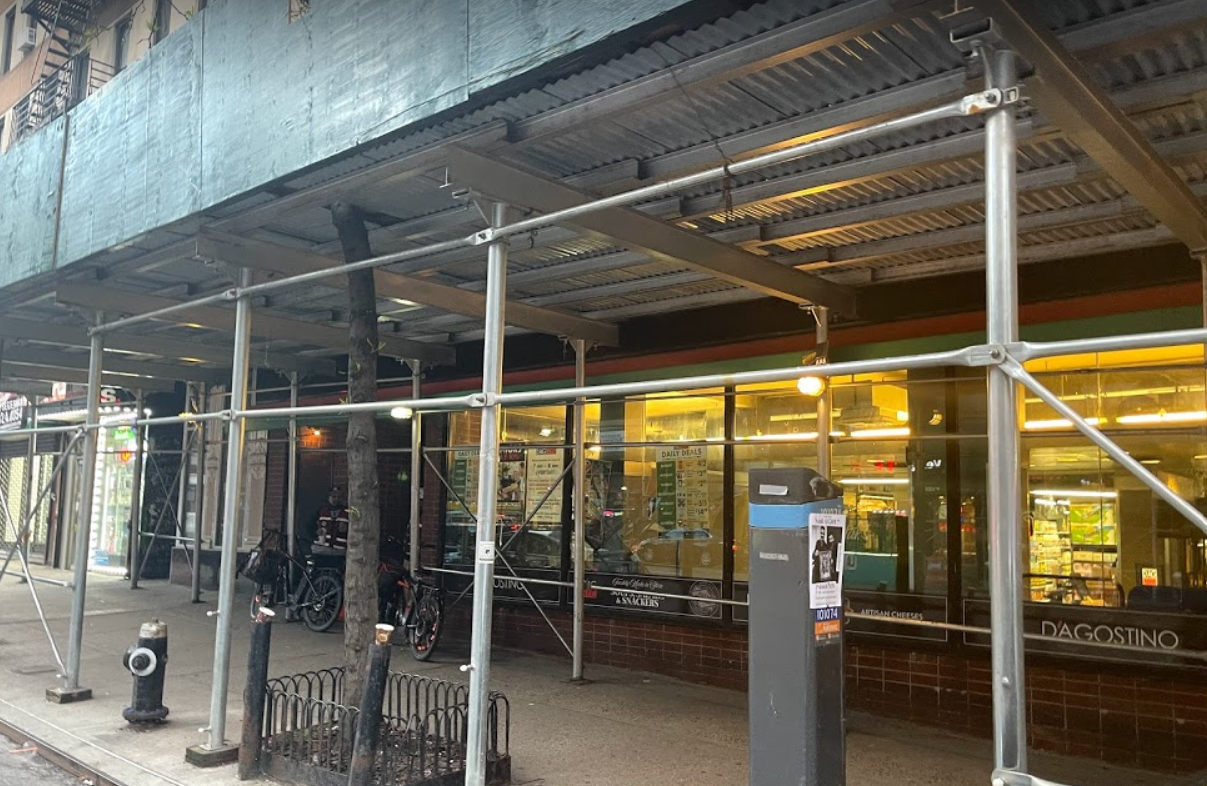 Give us a call and book your appointment we're keen to work with you.
Sidewalk shed vs. sidewalk bridge
Sidewalk sheds are temporary structures built to protect people or property. They need to be removed straightaway once construction or demolition is complete while a sidewalk bridge protects pedestrians from falling debris and construction materials, and provides a staging area for contractors.
When is a sidewalk shed required?
When construction work is being carried out at a height of more than 40 feet above the ground, or at a height of more than 25 feet for partial demolition, or in a hazardous condition, regardless of the height at which the construction is taking place.
What is a sidewalk shed?
Sidewalk sheds are temporary structures built to protect people or property. Property owners must install a shed if they are constructing a building over 40 feet tall, demolishing a building over 25 feet tall, and if the hazard calls for this type of protection.
Do you need a permit for a shed in NY?
For residential property, a shed up to 10 x 10 inches (100 square feet) is exempt from approval. Permits are required for more than one shed on the property and for a shed larger than 100 square feet.
How to build a sidewalk shed?
All sidewalk sheds must be designed as a heavy-duty sidewalk shed to support a load of at least 300 pounds per square foot (1464.6 kg/m). Though, where the shed is fitted to protect from work performed at a height of less than 100 feet (30 480 mm) above the ground, the sidewalk shed can be designed as a light duty sidewalk shed to support a load of at least 150 pounds per square foot (732.3 kg/m2), unless no item is stored or placed upon the shed.