Construction Fencing in New York City
Construction fencing means the use of any kind of fence galvanized iron, PVC coated or insulated G-I wire and stainless-steel materials around any construction building to avoid entrance of non-desirable objects and entities.
We are a trusted name in offering world-class services to ensure that you compy with the laws and regulations during the construction process. We deliver world-class sidewalk bridges and advance technology to perform every task. Trustworthy experts are available to serve you all the time.  
We are among one of the remarkable companies among fence rental companies.
If you are facing severe issues in installing fence construction, we are here to provide you with quick solutions for a long time. Our professional's foremost responsibility is to better understand customer's ideas and satisfy them.
We have top-rated experts, who perform their duties as per your demand and specifications. If you need any assistance, repairing services, or maintenance, our customer support is available 24/7. Our services are easy to attain with reasonable construction fence rents.
Construction fence fabric
Mostly people go for rental fencing to use around a building under construction to control crowed, around residential or farming land, a factory, used as a safety fence, or around any newly formed layouts.
We are here to provide you with various construction fence fabrics installation according to your desires. Here we have described few types of fabrics along with their details to help you choose the best options.
Choose one that can fulfill your needs and demands.
Orange construction fence
An orange construction fence is a guardian economy warning barrier (Tenex 2A060006). This fence is light in weight and a visual barrier used around construction sites, around utility work, and for controlling crowed in an area.
The orange construction fence is made up of high-quality plastic material, that's why its color never fades. Having ultraviolet stabilization property serves you for a long time within your budget.
This type of fence is ideally used for many construction fencing applications. You can use it both for domestic and professional purposes such as at any supported event, around a garden, and to control the bulk of people.
This green construction fence is manufactured with polypropylene plastic. You can stretch it easily to check its tensile strength. This fence perfectly matches with the natural environment around you and adds some aesthetic value also.
A black construction fence is also called a safety fence. This fence is used to control pedestrian and vehicle traffics. You can also use it at construction sites, parking lots, and warehouses.
It is equipped with high-density polyethylene that makes it wind resistant and rust-resistant. This is one of the most economical construction mesh fences.
Buy construction fence Queens
We are offering the best installation and maintenance services of construction fences in Queens. Our skilled staff is dedicated to providing top-notch fencing solutions to every type of clients. If you want outstanding fencing services, then you must approach us to help you with installation of a construction fence. Our experts take exact measurements and then install perfectly made sidewalk fences to make the construction project a hassle-free experience for you.
We work for our customer's safety and satisfaction.
High-quality Construction fence Yonkers
We are providing you with high-quality and reliable rental fences at affordable rates. Our customers are very precious to us and we understand that everyone desire to save some bucks. We do everything after proper communication with customers and try to follow all their instructions and ideas.
Our experts work professionally and technically. So, by choosing us, you will rest assured of being in professional hands. You can call us now if you want to avail of our services. Be ready for a hassle-free experience.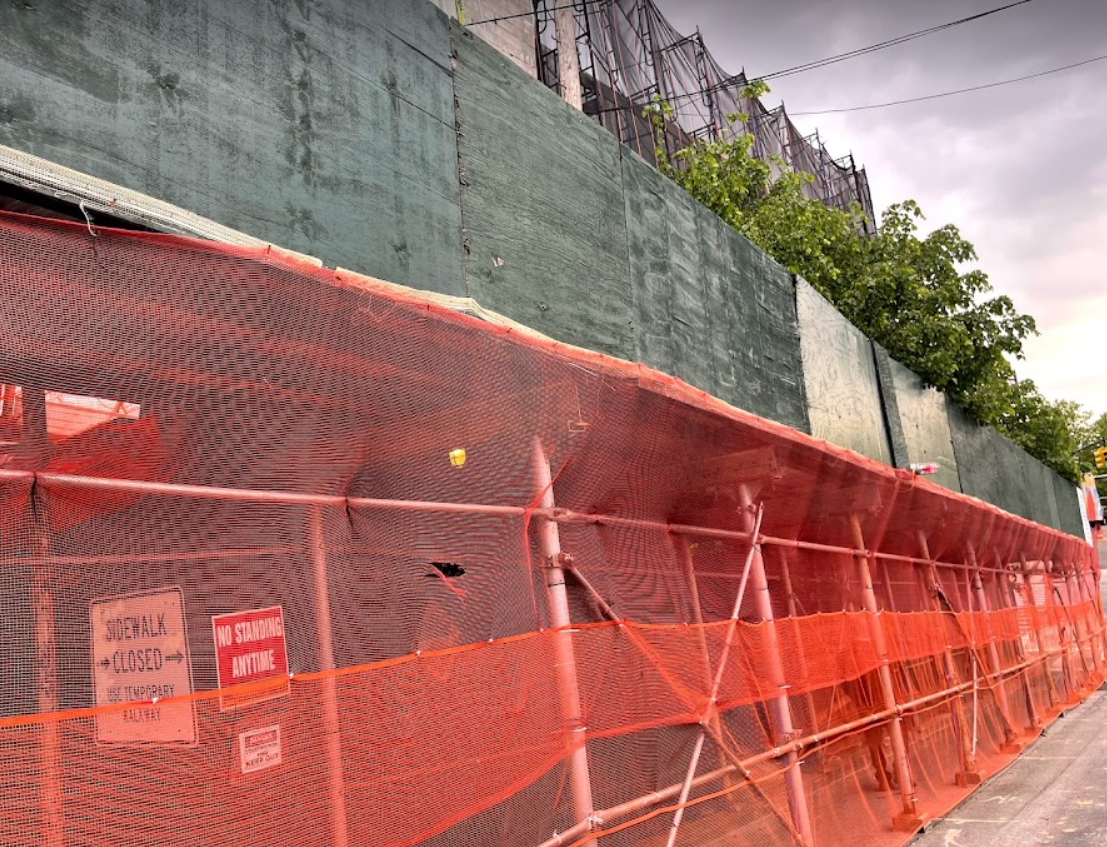 What is a fence in construction?
A fence is a structure that encloses an area, usually outdoors, and is generally made up of posts connected by boards, wires, rails, or nets.
Why are construction sites fenced off?
It protects the project and the on-site staff from intruders, interruptions and other inconveniences and prevents bystanders from accidentally entering the construction site and being injured by falling equipment or materials.